Shalom Schwartz Named Honorary Fellow
Shalom Schwartz was named an Honorary Fellow of IACCP at the 2010 Melbourne, Australia Congress. The text of his citation follows:
—
Past-President Jim Georgas presents a framed copy of the Honorary Fellow citation to Shalom Schwartz"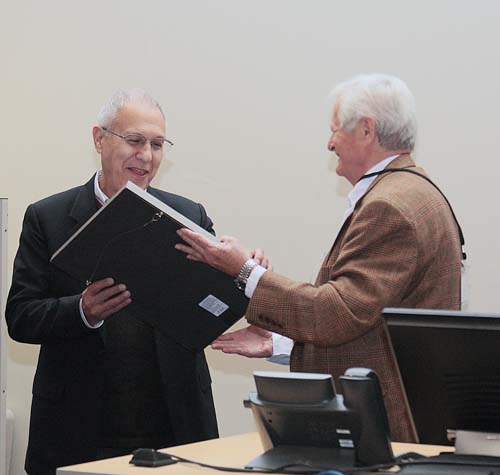 Past-President Jim Georgas presents a framed copy of the Honorary Fellow citation to Shalom Schwartz
(click for larger image)
Shalom H. Schwartz has made a major contribution to the development of cross-cultural psychology over the past two decades. His research into the universal structure of human values has provided a secure basis for the development of our conceptualization of culture and of cultural change. In particular, he has championed the importance of the distinction between individual-level and culture-level data analyses, and shown how endorsed values may cluster together in different ways at different levels. His understanding of values as emotion-linked beliefs that represent desirable trans-situational goals or modes of conduct that promote these goals has highlighted a key element in the assignment and transmission of cultural meanings. Through building links with colleagues in more than 70 nations, he has gathered values data that can truly represent both universal and distinctive aspects of culture.
His openness to innovation has been evident in his willingness to test the need for additional components to his model of values, in developing improved measures of values, and in employing an increasingly broad range of analytic techniques. He has strengthened the exposure of culture-related concepts to a broader audience through the integration of his measures into the European Value Survey.
At the Hebrew University, he created a major focus of research and training in cross-cultural psychology, which has led to a wider dissemination of the skills and insights emphasized by his perspective. In our field as a whole, his scholarly talent and fluent communication skills have won the admiration and respect of colleagues. He has served as President Elect, President and Past President of this association from 2002 to 2008, and as consulting editor of the Journal of Cross-Cultural Psychology from 1997 to the present time. In 2007, he was awarded one of Israel's highest honors, the Israel Prize, for his scientific work in psychology.
Shalom H. Schwartz is a worthy recipient of an Honorary Fellowship of IACCP.
Text written by Peter Smith