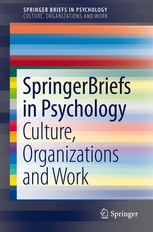 Subseries of SpringerBriefs in Psychology
Series Editors: S. Glazer, C.T. Kwantes
The SpringerBriefs Series in Culture, Organizations, and Work publishes fully developed
conceptual pieces that focus on current state-of-the-art topics and research on the
interface between culture, organizations and work. The series aims to expand upon key
concepts, theories, or ideas that require more development than a typical journal article
permits, but still do not require a full-length book.
View More