Global Perspectives on Well-Being in Immigrant Families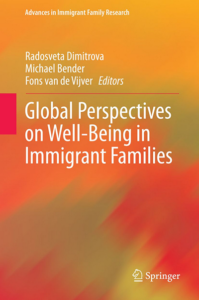 Author(s) Rodosveta Dimitrova, Michael Bender, & Fons van de Vijver (Eds.)
2014, Springer
Tags Acculturation
Price $179 (hc) | Pages 584 | ISBN 978-1-4614-9129-3
From the Back Cover
Global Perspectives on Well-Being in Immigrant Families stands apart from current edited books by focusing mainly on immigrants coming to countries other than the United States, and on the experiences of children, adolescents, and young adults. Its international panel of experts addresses the complexities of acculturation in individual and family contexts, and explores how key factors such as education, home environment, parenting issues, and discrimination, contribute to optimal or unsuccessful adjustment. Findings on acculturation orientations (culture maintenance and adoption), acculturation outcomes (psychological well-being, social and linguistic adjustment), religiosity, ethnic and racial socialization, parenting practices and attachment, identity management strategies, political and civic engagement among immigrant children and youth are presented. In our conclusions we clarify how cultural adaptation can be studied based on the results of the current volume. Among the highlights included in this informative volume are:
Schooling and family processes in Japan.
Parent and peer attachment and psychosocial adjustment of Chinese immigrant adolescents in Italy.
Contextual influences on subjective well-being of young ethnic minority Russians in Estonia.
Culture and adaptation of Black Caribbean youth in the United States.
Connectedness and psychological well-being among adolescents in Kenya.
Sociolinguistic adjustment in migrant children in Ireland.
With its innovative and cutting-edge approaches to theoretical and methodological concerns, Global Perspectives on Well-Being in Immigrant Families offers up-to-date evidence and insights for researchers and practitioners in the fields of developmental psychology, cross-cultural psychology, family studies, gender studies, sociology, social work, and counseling.