SPARK Grant Winners announced
The IACCP's SPARKS Grants Committee is excited to issue the 2023 award announcements! CONGRATULATIONS to our five teams of winners, who were each awarded up to USD$1000 to implement their amazing projects.
SPARK grants are aimed at supporting activities enhancing the visibility of the IACCP and cross-cultural psychology, and spark awareness, build local capacity, and spark networking among cross-cultural psychologists across or within regions.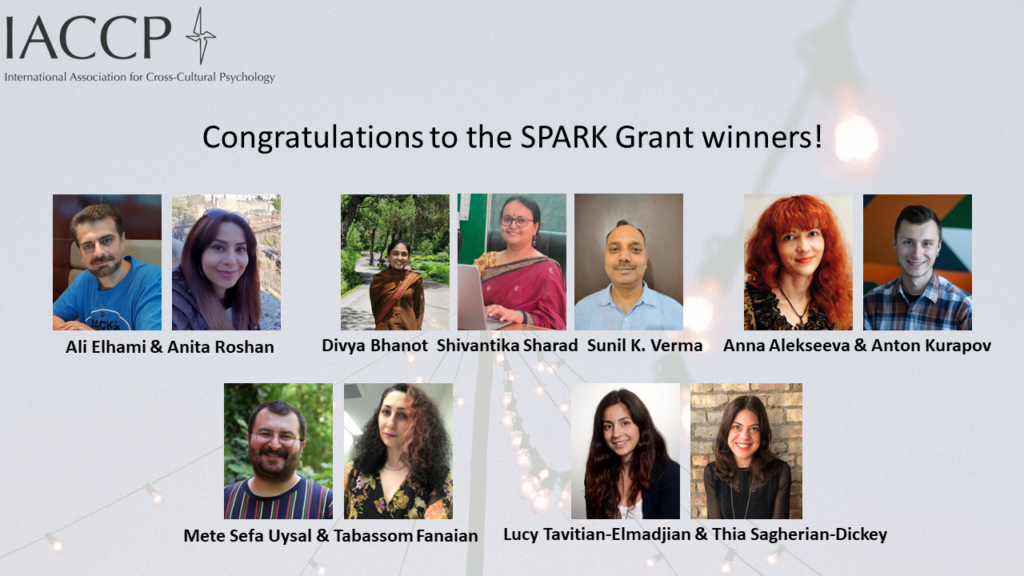 We congratulate all recipients and their teams, and are looking forward to hearing about their activities!
Anna Alieksieieva, Anton Kurapov: "Predictors of Integration of Ukrainian Migrants in Different European Countries"
Shivantika Sharad, Divya Bhanot, Sunil K. Verma: "Broadening Horizons: A Certificate Course on Cross-Cultural Psychology"
Mete Safa Uysal, Tabassom Fanaian: "Exploring Alliance-Building: Challenges in Repressive Totalitarian Contexts"
Lucy Tavitian-Elmadjian, Thia Saherian-Dickey: "Armenian Collective Identity: Meaning and Content"
Ali Elhami, Anita Roshan: "Integration Policy and Acculturation Interdisciplinary Seminar/Webinar series"
The SPARK grants will be available again in 2024.