Dear Colleagues,
Abstract evaluations and acceptance notifications for IACCP 2023 are now rolling, don't forget to check your spam folders as important emails regarding submissions and registration might possibly end up there!
Looking forward to welcoming you all to our conference in the summer of 2023!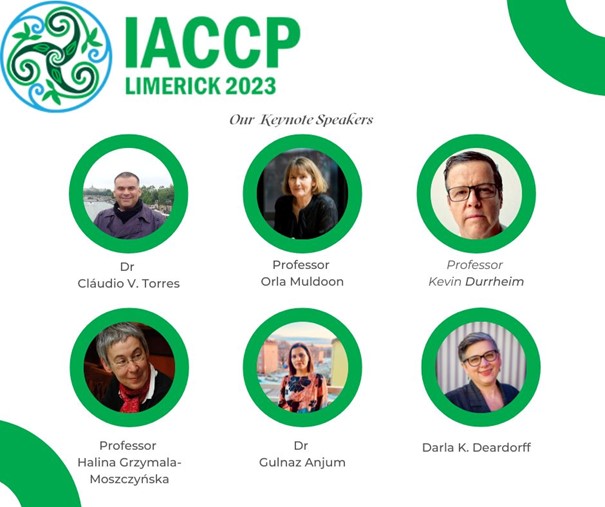 CONFIRMED PRE-CONFERENCE WORKSHOPS:
We are excited to announce that on Monday the 31st of July and Tuesday the 1st of August, we are planning to run a series of half day and full day pre-conference workshops.
The study of cross-cultural differences has been a long-standing topic in psychology, but many of these comparisons are undermined by lack of consideration of measurement equivalence. This is essential when comparing constructs across different cultural groups, and it also opens exciting opportunities to examine how psychological constructs may differ based on cultural context.
Dr. Johannes A. Karl (Dublin City University) and Dr. Pablo de Tezanos Pinto (University of Limerick) will facilitate a workshop titled 'A Practical Guide to Cross-Cultural Comparisons and Measurement Invariance Using R' to provide both conceptual and practical tools to deal with this issue, establishing a foundation for conducting rigorous cross-group comparisons in psychology. No prior knowledge of R is required. The group will go through the basics of doing data analysis in R and then move on to the core methods for cross-group testing using lavaan, including multi-group confirmatory factor analysis and effect size estimation for non-invariant parameters.
Another one of our exciting workshops, titled 'Decolonizing Psychology', will be facilitated by Susana Núñez Rodriguez (UFRGS, Brazil). This workshop aims to promote a discussion about traditional research, psychological evaluation, clinical practice and psychosocial interventions through the lenses of decolonization. Among others, Susana will cover new perspectives on psychological evaluation and tests as well as the decolonization of well-being in clinical psychology. The workshop would also study and promote the utilization of books, concepts and approaches from the bigger south of the world: back and indigenous thinkers. 
The full list of workshops confirmed for IACCP 2023 can be found below:
| | | |
| --- | --- | --- |
| | Workshop Title | Facilitator(s): |
| 1 | Student Solidarity as Praxis | Tony Nelson, Kaylee Henderson, and Shahriar Akhavan Tafti |
| 2 | Social Interventions with Communities: from Design to Sustainability | Dr. Ronni Greenwood. |
| 3 | Applying R to cross-cultural research | Dr. Pablo de Tezanos Pinto and Dr. Johannes A. Karl. |
| 4 | "Ukraine: who, where and why?" Cultural sensitivity in working with Ukrainian refugees. | Prof. Dr. hab. Halina Grzymała-Moszczyńska, Dr. Anca Minescu, and Liliyana Mbeve. |
| 5 | "The Cost Of Caring – Caring for the carers" – The consequences of supporting and caring and how to take care of ourselves. | Manoela Lucena and Leticia Scheidt. |
| 6 | The importance of intercultural competence when fighting for social justice on the media. | Beatriz Gomez Moreno and Mamobo Ogoro. |
| 7 | Social Identity Model of Trauma and Resilience. | Prof. Orla Muldoon, Dr. Aisling O Donnell, and Sarah Jay |
| 8 | Developing intercultural Competence: Strategies for University Students, Educators, and Administrators | Anastasiia Zubareva, Aigerim Balkhashbayeva, and Diana Lizarazo |
| 9 | Social Psychology of Climate Conflicts: How to Mediate and Resolve Climate Conflicts in Different Cultural Contexts? | Dr. Gulnaz Anjum and Nora Cornelia Glerud Benningstad |
| 10 | All that we share: The Tell your own story (TYOS) project working to improve diversity in the media | Maria Rieder, Gail Flanagan, Anita Barmettler, Robyn Cunneen, Hadjer Bensadek |
| 11 | Decolonizing Psychology | Susana Núñez Rodriguez |
| 12 | Mapping attitudes as networks | Mike Quayle and Elaine Smith |
REGISTRATION IS NOW OPEN!
Registration for IACCP 2023 is now open. Early Bird registration runs till the 15th of May, 2023 (rates only apply to members of the IACCP). Regular registration runs from 16th May till the 1st of August 2023.
We recommend that presenters accepted to participate with their submission should register before the Early Bird Registration Deadline. This will guarantee your inclusion in the program.
👉👉👉 https://iaccp2023.com/registration/ 👈👈👈
February 20 – May 15, 2023: Early Bird Registrations Open
May 16 – August 1, 2023: Regular Registration
BOOK ACCOMMODATION ON CAMPUS NOW!
As early bird registration is now open, and with limited accommodation options, it's important to start booking early. We highly recommend the Student Apartments on campus, which are only a 7-10 minute walk from the conference facilities and offer 4/6 bedroom apartments in beautiful riverside settings.
Each bedroom has a double (queen-sized) bed, an en-suite shower and toilet, and ample storage areas. Linen, towels, and mini toiletries are provided for guests. The shared living room and fully fitted kitchen.
The campus offers stunning parkland scenery, 24-hour security patrols, village launderettes, and various restaurants and bars. In addition, there are sports facilities, including a gym, running tracks, and a 50m pool. For 2023, we can offer ensuite bedrooms on campus for delegates at an approximate B&B rate of €65.00 pppn.
Evening meals on campus are available in standard catering outlets. For more great accommodation options, check out:
👉👉👉 https://iaccp2023.com/visiting-limerick/where-to-stay/ 👈👈👈
Don't miss out on this amazing conference experience – register now and book your accommodation early!
For more information, please visit our website: https://iaccp2023.com/
or follow our official Facebook page: https://www.facebook.com/IACCP2023
If you have any questions…
regarding travel, accommodation or registration,
please email inbound@limericktravel.ie.
For every other question about the conference, you can contact the organizing committee by sending an email to IACCP2023@gmail.com.

Conference motto:
Knowledge is power. Knowledge shared is power multiplied.'
by Robert Boyce