REGISTRATION IS NOW OPEN!
Registration for IACCP 2023 is now open. Early Bird registration runs till the 15th of May, 2023 (rates only apply to members of the IACCP). Regular registration runs from 16th May till the 1st of August 2023.
We recommend that presenters accepted to participate with their submission should register before the Early Bird Registration Deadline. This will guarantee your inclusion in the program.
👉👉👉 https://iaccp2023.com/registration/ 👈👈👈
February 20 – May 15, 2023: Early Bird Registrations Open
May 16 – August 1, 2023: Regular Registration
PRE-CONFERENCE WORKSHOPS:
Right before the official start of the conference, we invite you to take part in our pre-conference workshops on July 31st and August 1st. We will be offering a variety of half-day and full-day workshops and invite you to use this incredible opportunity to expand your knowledge and skills in cross-cultural research!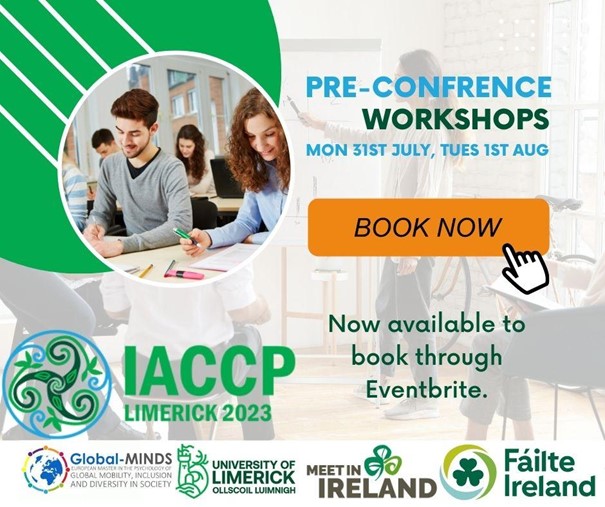 Below we briefly introduce two of our exciting pre-conference workshops and then we present a table with the schedule and event links for registration:
A Social Identity Model of Trauma and Resilience
Facilitators: Professor Orla Muldoon, Dr. Aisling O Donnell, and Sarah Jay
In this workshop we draw on research that shows group memberships, and the social identities we derive from them, are central to our health and wellbeing. As such, stress, and experience of adversity, are more than the concern of individuals as individuals. Rather, it is as group members that people respond to trauma. This means that social identities are more than "demographic" risk factors. We highlight how attributes of group memberships such as groups' status and their access to justice, are important in understanding adjustment and adaptation to trauma. Also, group level trust and solidary support individual-level psychological resilience.
The importance of intercultural competence when fighting for social justice on the media.
Facilitators: Beatriz Gomez Moreno and Mamobo Ogoro.
While Ireland grapples with the new and existing multicultural reality, it is buckling under the weight of toxic polarisation, high mistrust towards the 'other', and out-group scapegoating—divisions that are now being exploited in online and social media spaces.
Through research experience in the study of social psychology, intergroup relations and intercultural competence, and real-world experience through programmes in social enterprise GORM, this workshop shows the power of intercultural competence when fighting for social justice on the media and provides a practical guide to effectively engaging across lines of difference in a social media environment. These tools are needed when applying cross-cultural psychology in the modern technological world, and breaking down polarisation online.
Workshop schedule and links to registration
31st July 10:00am – 1:00pm
2:00 – 5:00pm
1st August 10:00am – 1:00pm
10:00am – 1:00pm & 2:00 – 5:00pm
2:00 – 5:00pm
Price information
3-hours-workshop: 100€ regular, 60€ for students
6-hours-workshop: 150€ regular, 120€ for students
BOOK ACCOMMODATION ON CAMPUS NOW!
As early bird registration is now open, and with limited accommodation options, it's important to start booking early. We highly recommend the Student Apartments on campus, which are only a 7-10 minute walk from the conference facilities and offer 4/6 bedroom apartments in beautiful riverside settings.
Each bedroom has a double (queen-sized) bed, an en-suite shower and toilet, and ample storage areas. Linen, towels, and mini toiletries are provided for guests. The shared living room and fully fitted kitchen.
The campus offers stunning parkland scenery, 24-hour security patrols, village launderettes, and various restaurants and bars. In addition, there are sports facilities, including a gym, running tracks, and a 50m pool. For 2023, we can offer ensuite bedrooms on campus for delegates at an approximate B&B rate of €65.00 pppn.
Evening meals on campus are available in standard catering outlets. For more great accommodation options, check out:
👉👉👉 https://iaccp2023.com/visiting-limerick/where-to-stay/ 👈👈👈
Don't miss out on this amazing conference experience – register now and book your accommodation early!
For more information, please visit our website: https://iaccp2023.com/
or follow our official Facebook page: https://www.facebook.com/IACCP2023
If you have any questions…
regarding travel, accommodation or registration,
please email inbound@limericktravel.ie.
For every other question about the conference, you can contact the organizing committee by sending an email to IACCP2023@gmail.com.

Conference motto:
Knowledge is power. Knowledge shared is power multiplied.'
by Robert Boyce