2017 Regional Conference of IACCP Warsaw Poland
Jul 16, 2017—Jul 19, 2017
Location
Warsaw, Poland
Categories IACCP Conferences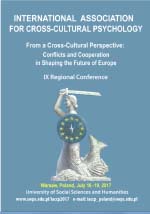 Conference theme: Conflict vs Cooperation and Growth: From a European cultural perspective
Website: https://iaccp2017.com
Organizing University: University of Social Sciences and Humanities (SWPS), Warsaw Campus
Chairperson: Professor dr hab. Pawel Boski pboski@swps.edu.pl
Local Organization Committee: Dr hab.Michał Bilewicz, dr hab. Jan Cieciuch ,dr Marta Penczek, dr Karolina Mazurowska, dr Joanna Różycka-.‐Tran
Scientific Committee: Fons van de Vijver, Patricia Greenfield, Klaus Boehnke, Marta Fulop, Debi Robinson, Saba Safdar, Nadezhda Lebedeva, Anu Realo, Jan Cieciuch, Pawel, Boski
Fees: See First Announcement (linked from this page) and conference website
Contact: iaccp_poland@swps.edu.pl
University of Social Sciences and Humanities
University of Social Sciences and Humanities is a private university, the only school of higher learning in Poland enjoying a title of University. It has the strongest school of psychology in the country, and one of the largest in the world (over 1,500 MA graduates in psychology each year). We have a program in cross‐cultural psychology of 20 years of duration, and my department is an active group or researchers. Some of its members are the 2000 Congress, student-.‐organizers. I can easily count on any required number of new generation students-.‐assistants. The idea of Conference organization in our premises has been wholeheartedly accepted by the Rector, professor Andrzej Eliasz.
Warsaw
Warsaw is a very quickly growing and developing modern European metropolis. Those who attended the Pułtusk Congress in 2000, will find the unbelievable pace of change during the past 17 years. Warsaw offers interesting cultural events, and is worth visiting in summer time.
Conference Theme
Recent years have brought us many important challenges which must to coped with across the nations in Europe: 1) The Russian – Ukrainian conflict; 2) Humanitarian crisis of Middle East, African refugees; 3) Terrorism in plural societies; 4) Economic slump in Greece. These key problems have macro political, ramifications but they have psychological consequences of great importance for cross-cultural psychology. Our keynote speakers and invited symposia will address them head on. We need to demonstrate practical relevance, and not only academic excellence, of our discipline for our times.