Understanding Culture – Theory, Research, and Application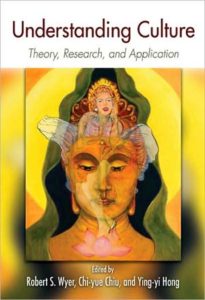 Author(s) Robert S. Wyer, Chi-yue Chiu, Ying-yi Hong (Editors)
2009, Psychology Press
Price $72.00 | Pages 538 | ISBN 978-1-84872-808-0
About the Book
This volume contains contributions from 24 internationally known scholars covering a broad spectrum of interests in cross-cultural theory and research. This breadth is reflected in the diversity of the topics covered in the volume, which include theoretical approaches to cross-cultural research, the dimensions of national cultures and their measurement, ecological and economic foundations of culture, cognitive, perceptual and emotional manifestations of culture, and bicultural and intercultural processes.
In addition to the individual chapters, the volume contains a dialog among 14 experts in the field on a number of issues of concern in cross-cultural research, including the relation of psychological studies of culture to national development and national policies, the relationship between macro structures of a society and shared cognitions, the integration of structural and process models into a coherent theory of culture, how personal experiences and cultural traditions give rise to intra-cultural variation, whether culture can be validly measured by self-reports, the new challenges that confront cultural psychology, and whether psychology should strive to eliminate culture as an explanatory variable.
Table of Contents
Part 1. Theoretical Approaches.
Part 2. Dimensions of National Cultures and Their Measurement.
Part 3. Ecological and Economic Foundations of Culture.
Part 4. Psychological Manifestations of Culture: Cognition, Perception and Emotion.
Part 5. Bicultural and Intercultural Processes.
Part 6. Integration and Reflection.
Part 7. A Dialogue: Problems and Solutions.