Tiia Tulviste, Deborah L. Best, Judith L. Gibbons Children's Social Worlds in Cultural Context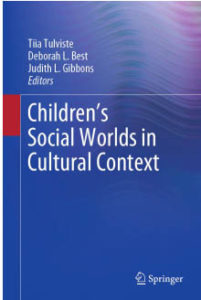 Examines social competencies in early childhood from a cultural perspective
Focuses on preschoolers' social competencies, including how to communicate,
understand emotions of other people, and behave prosocially across various
situations
Discusses how the variability in social worlds shapes children's competencies
Addresses societal and educational challenges triggered by rapidly increased
migration around the world
This book addresses cultural variability in children's social worlds, examining the acquisition,
development, and use of culturally relevant social competencies valued in diverse cultural
contexts. It discusses the different aspects of preschoolers' social competencies that allow
children – including adopted, immigrant, or at-risk children – to create and maintain
relationships, communicate, and to get along with other people at home, in daycare or school,
and other situations. Chapters explore how children's social competencies reflect the features
of the social worlds in which they live and grow. In addition, chapters examine the extent that
different cultural value orientations manifest in children's social functioning and escribes how
parents in autonomy-oriented cultures tend to value different social skills than parents with
relatedness or autonomous-relatedness orientations. The book concludes with
recommendations for future research directions. Topics featured in this book include: Gender
development in young children. Peer interactions and relationships during the preschool years.
Sibling interactions in western and non-western cultural groups. The roles of grandparents in
child development. Socialization and development in refugee children. Child development within
institutional care.
Visit publisher page: https://www.springer.com/us/book/9783030270322