Romantic Love in Cultural Contexts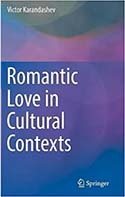 Author(s) Victor Karandashev
2017, Springer
Price US$139 (printed) | Pages 2 | ISBN ISBN 978-3-319-42683-9
This volume presents a conceptual, historical, anthropological, and sociological review of how culture affects our experience and expression of romantic love. What is romantic love and how is it different from and similar to other kinds of love? How is romantic love related to sex and marriage in human history and across contemporary cultures? What cultural factors mediate attraction in love? These are some of the questions the volume explores through its interdisciplinary yet focused lens.
Much of the current research evidence suggests that love is a universal emotion experienced by a majority of people, in various historical eras, and in all the world's cultures. Yet, love displays in different ways because culture has an impact on people's conceptions of love and the ways they feel, think, and behave in romantic relationships. This volume summarizes classical knowledge on love and culture while at the same time focusing sharply on recent studies and cutting-edge research that has advanced the field.
Divided into three parts, the volume begins by defining and analyzing the concept of romantic love and interdisciplinary approach to its study in cultural context. Part II traces the origin and evolution of romantic love both in various places throughout the world and various time periods throughout history. Part III presents the revolutionary expansion of romantic love ideas and practices in the late 20th and early 21st centuries in various parts of the world, focusing particularly on the development of romantic love as a cultural ideal of the modern cultures. Finally, the book concludes by summarizing the major achievements in this field of study and predicts future development. A timely and thoughtful addition to the literature, Romantic Love in Cultural Contexts delivers thought-provoking insights to researchers in relationship scholarship, sociology, anthropology, and cultural studies, and all those interested in the universal human concept of love.