Oxford Handbook of Chinese Psychology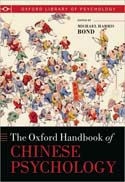 Author(s) Bond, M. H. (Ed.)
2010, Oxford University Press
Price $125 | Pages 696 | ISBN 978-0-19-954185-0
Description
In recent years China has witnessed unprecedented economic growth, emerging as a powerful, influential player on the global stage. Now, more than ever, there is a great interest and need within the West to better understand the psychological and social processes that characterize Chinese people.
The Oxford Handbook of Chinese Psychology is the first book of its kind– a comprehensive and commanding review of Chinese psychology, covering areas of human functioning with unparalleled sophistication and complexity. In 42 chapters, leading authorities cite and integrate both English and Chinese-language research in topic areas ranging from the socialization of children, mathematics achievement, emotion, bilingualism, and Chinese styles of thinking to Chinese identity, personal relationships, leadership processes, and psychopathology. With all chapters accessibly written by the leading researchers in their respective fields, the reader of this volume will learn how and why China has developed in the way it has, and how it is likely to develop. In addition, the book shows how a better understanding of a culture so different to our own can tell us so much about our own culture and sense of identity.
A book of extraordinary breadth, the Oxford Handbook of Chinese Psychology will become the essential sourcebook for any scholar or practitioner attempting to understand the psychological functioning of the world's largest ethnic group.
Features
Provides in depth coverage of all areas of Chinese psychology, assisting students and researchers in preparing and developing ideas
Comprehensive coverage of all areas of Chinese psychology, enabling scholars to know the background to research in any sub-discipline of Chinese psychology
Includes a chapter on inter-cultural interactions with the Chinese, showing professionals how they can work more effectively with the Chinese in business and other areas
Reviews
"…The Oxford Handbook of Chinese Psychology certainly belongs on the must-read list for graduate training. It is a fascinating compendium that covers not only the groundwork of Chinese psychology but also research on Chinese language development, personality traits, psychotherapy approaches, psychiatric diagnoses, and consumer mentality, just to name a few notable chapters. It is an invaluable desk reference for all students, faculty members, and practitioners interested in working with Chinese populations. " —PsycCRITIQUES
Table of Contents
Chapter 1. The continuing prospects for chinese psychology (Blowers)
Chapter 2. What is Chinese about Chinese psychology and who are the Chinese in Chinese psychology? (Hong, Yang,& Chiu)
Chapter 3. The cultured brain: Interplay of genes, brain, and culture (Ali & Penney)
Chapter 4. Social and emotional development in Chinese children (Chen)
Chapter 5. Parenting and child socialization in contemporary China (Wang & Chang)
Chapter 6. Language and the brain: Computational and neuroanatomical perspectives from Chinese (Li & Shu)
Chapter 7. Language and literacy development in Chinese children (McBride-Chang, Lin, Fong, & Shu)
Chapter 8. Understanding reading disabilities in Chinese: From basic research to intervention (Ho)
Chapter 9. Chinese bilingualism (Cheung, Yap, & Yip)
Chapter 10. Chinese children learning mathematics: From home to school (Ni, Chiu, & Cheng)
Chapter 11. The thinking styles of Chinese people (Ji, Lee & Guo)
Chapter 12. Approaches to learning and teaching by the Chinese (Kember & Watkins)
Chapter 13. Chinese students' motivation and achievement (Hao & Ho)
Chapter 14. How unique is Chinese emotion? (Yik)
Chapter 15. Beliefs in Chinese societies (Leung)
Chapter 16. The multiple frames of 'Chinese' values: From tradition to modernity and beyond (Kulich & Zhang)
Chapter 17. What do we know about the Chinese self? Illustrations with self-esteem, self-efficacy, and self-enhancement (Kwan, Hui, & McGee)
Chapter 18. From indigenous to cross-cultural personality: The case of the Chinese Personality Assessment Inventory (Cheung, Zhang, & Cheung)
Chapter 19. Psychology and aging in the Land of the Panda (Fung & Cheng)
Chapter 20. Chinese well-being (Lu)
Chapter 21. The spirituality of Chinese people (Shek)
Chapter 22. Psychiatric disorders in the Chinese (Steward, Lee, & Tao)
Chapter 23. Clinical neuropsychology in China (Chang, Leung, & Cheung)
Chapter 24. The tao (way) of Chinese coping (Cheng, Lo, & Chio)
Chapter 25. Illness behaviors among the Chinese (Mak & Chen)
Chapter 26. Community psychology in Chinese societies (Chan)
Chapter 27. Psychotherapy with the Chinese: An update of the work in the last decade (Liu & Leung)
Chapter 28. Face and morality in Confucian society (Hwang & Han)
Chapter 29. Chinese cooperation and competition (Leung & Au)
Chapter 30. Interpersonal relationships in rapidly changing Chinese societies (Chan, Ng, & Hui)
Chapter 31. A gender perspective on Chinese social relationships and behavior (Tang, Chua & O)
Chapter 32. Chinese cultural psychology and contemporary communication
Chapter 33. Chinese political psychology: Political participation in Chinese societies (Ng)
Chapter 34. Chinese intergroup relations and social identity (Liu, Li, & Yue)
Chapter 35. Developments in Chinese language: Paternalism and its elaboration, moderations, and alternatives (Chen & Farh)
Chapter 36. Chinese consumer behavior: The effects of content, process, and language (Wyer & Hong)
Chapter 37. Chinese sports psychology (Si, Lee, & Lonsdale)
Chapter 38. Chinese acculturation and adaptation (Ward & Lin)
Chapter 39. Inter-cultural interactions: The Chinese context (Thomas & Liao)
Chapter 40. On the distinctiveness of Chinese psychology: Or, are we all Chinese? (Smith)
Chapter 41. Moving the scientific study of Chinese psychology into our twenty-first century: some ways forward (Bond)