Changing relations: Achieving intimacy in a time of social transition.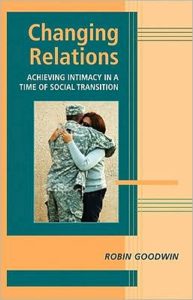 Author(s) Robin Goodwin
2008, Cambridge University Press
Price US$90 (hc) | Pages 240 | ISBN 9780521842044
Table of Contents
1. Defining and measuring social change
2. The myth of modernisation?
3. More beautiful than a monkey: the achievement of intimacy
4. Friends and social networks
5. Sex and the modern city
6. Marriage and the family
7. Modeling social change and relationships
Goodwin critically reviews the literature on modernisation and contemporary relationships, challenging simplistic conclusions about the 'end of intimacy' and the inevitable decline of personal commitment. Reviewing work from across the globe, he also contends that adaptation to rapid change is moderated by individual, social class and cultural variations, with consequently differing impacts on everyday relations. In doing so he brings together contemporary debates in psychology, sociology and the political sciences on coping with social change and its impact on personal relations.